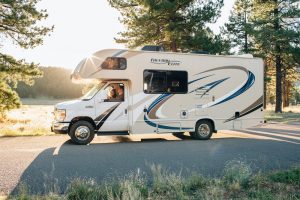 If the wanderlust of RV travel has you wanting to pack your suitcase and hit the road, then this blog is for you. We will explore facets of RV ownership that you may not be thinking about when checking out your local dealership's inventory or when scrolling online to find the perfect floorplan.
Owning an RV is a lifestyle asset and is a great way to make memories travelling by yourself, or with family and friends. An RV offers travelers a private dwelling that lets one get away from hectic everyday life or provides an alternative to traditional housing. Regardless of your specific intention for owning a motorhome or trailer, having an RV will give you the freedom to explore as far as the road will take you, and also on your time schedule. The information provided will educate you about maintenance, travel costs, storage, and the expenses that you may incur during RV ownership and on the road.
What size makes the most sense?
This is the first question you should be asking yourself when seriously considering purchasing an RV.  While price may be the ultimate determining factor in this decision, you should also take into consideration how often you will be using your RV and where it will be stored. Going for the largest RV in your budget may be tempting, however might not make sense if your RV is only going to see limited use on the weekends or maybe a week or two a year. Higher purchase price also correlates with higher maintenance costs. Below is a break down a few different examples of RV owners and what size may make the most sense.
Weekend Warrior – Usually this RV owner has a small family, is most likely still working and plans to use their RV with their family for weekend getaways. Possibly one or two weeklong trips a year. A class C, or travel trailer would most likely be a good fit for this owner. Both these size RVs are well equipped with beds and a kitchen and are perfect for short getaways where laundry won't be needed.
#VanLife – A free spirited RV owner who is usually travelling alone and is using their RV also a primary vehicle. In most cases, a class B van, or a van conversion would make the most sense. I have seen people use class C motorhomes for this lifestyle, but the problem with a class C is parking. Everyday tasks like going to a grocery store can be difficult in anything larger than a B van. Keep in mind, B vans have the smallest tank capacities which means that you will need to be able to dump and refill tanks more frequently and you will have to get creative with doing laundry on the road.
Retired Traveller or Full Timer – This RV owner is usually travelling with a spouse and needs space! Not to mention all the creature comforts of being at home, like a washer/dryer and two bathrooms (if possible). To get all the amenities of home on the road, a 5th Wheel or class A would make the most sense for these RV owners.
Keep in mind the biggest difference between a class A and 5th wheel is the power train. A class A will be motorized which will make life easier having to never connect a truck to your RV, but also comes with the maintenance costs of maintaining another engine, transmission and chassis. A 5th Wheel allows you to have one truck that can also tow your RV. The truck towing your 5th wheel may have to be a ¾ ton, or 1 ton truck to accommodate the weight of the 5th wheel.
The cost of travelling
Fuel Economy – Your most common recurring expense while travelling will be gasoline or diesel fuel. Let's take a look at how each RV stacks up in the MPG department.
RVs aren't known for getting the best fuel economy. B vans are your best option if you are concerned about miles per gallon, or MPG. Modern B vans can get between 18-25 MPG depending on what type of chassis you have and the weight of your rig. Diesel chassis vehicles will get better MPG than a gas chassis, however these vehicles usually cost more up front, and diesel is not always as readily available as gasoline when you stop to fill up.
When towing a travel trailer or 5th wheel, a lot of variables will come into play for MPG, for example the age of truck used for towing, speed while driving, wind direction, chassis/engine type (gas or diesel) if the truck is lifted, etc. A good rule of thumb to follow is every 100 lbs. of extra weight in a truck decreases its fuel economy by two percent. A rough range estimate would be 10-16 MPG.
Class C motorhomes are also subject to the type of engine, weight, wind direction, chassis/engine and can get between 12 – 22 MPG. Diesel chassis for these RVs really excel in fuel economy, but again come with a heftier price tag at the time of purchase.
You might have guessed, the large house on wheels class A motorhomes get the lowest MPGs out of the group. Gas chassis Class A fuel economy comes in at a painful 6-10 MPG on average. Diesel pusher motorhomes come in at around 8-12 MPG. Factors contributing to fuel economy for these rigs are driving speed, weight and driving conditions such as wind or uphill/downhill terrain.
Campsites – In addition to a monthly payment for your RV (if financed) and fuel costs, another expense to take into consideration is camp site costs. The cost per night of staying at a campsite varies quite a bit and is based off of amenities and location. There are a few different categories to consider when making travel plans –
Budget campgrounds – These parks will set you back about $15-40 per night. These sites usually offer the necessity amenities like a dump station, showers, water fill up and electrical hook up. Some offer extra perks like Wi-Fi, grills, fire pits or a bath house. These camp sites are perfect for a budget friendly week, or weekend getaway where you have what you need after a busy day of being out in nature or exploring.
Mid-range camp sites – For a price tag of $30-50 per night, you get a lot of bang for the buck. In addition to the amenities listed in the budget camp sites, mid-range amenities might include full hookups, sport facilities and swimming pools, pet areas, stores or laundry to make your stay more comfortable. These parks are great for week or longer stays.
Luxury Campgrounds – These parks are what you can call "glamping" and will set you back a pretty penny of $60-100 per night. Some of these places are also referred to as resorts because they offer amenities that you would expect from staying at a luxury resort hotel or condo like heated pool and spa, private marina, clubhouse, gym, and patios to name a few. Amenities will vary by location, but rest assured, you will have everything needed for a comfortable weekend or extended stay. Some are so nice you may not want to leave!
KOA – KOA is the largest privately owned chain of camp sites that offer a lot of amenities at a fair price. Overnight stays cost between $40-80 depending on location and offer consistent amenities at all locations including clean restrooms, hot showers, laundry facilities, fire pits and picnic tables, convenience stores, pet parks, playground and group tent options. These sites are perfect for an overnight stay on the road or extended vacation.
Keep in mind that all parks have rules and restrictions. Some of those restrictions include RV age, class or length of RV, others have pet and camper age restrictions. Always research a park and book in advance to guarantee that you will have a trouble-free stay.
Maintenance
Probably the most overlooked expense due to the excitement of purchasing an RV is the maintenance cost associated with owning an RV. As stated earlier, maintenance costs usually correlate with the size and purchase price of an RV. A larger class A or 5th wheel for example will have more plumbing and electrical components than say a class C or B van. We won't touch on every maintenance expense as they will vary by chassis and manufacturer. However, below are common maintenance items to take into consideration.
Chassis maintenance – If you opt for a motorized unit, in addition to your daily driving vehicle, there will be another engine and chassis that will need to be maintained for safe travel on your RV adventures. This includes oil changes, tire rotations, filters, suspension maintenance and more. It is critical that the maintenance schedule provided by the manufacturer is followed to ensure that your motorhome is safe and roadworthy for travel. Chassis maintenance will vary based off the age of RV purchased and drivetrain (gas or diesel). If you use a heavy-duty passenger truck for towing, the maintenance costs for that truck will be less than that of a motorhome. You will still need to follow the manufacture's maintenance schedule and make sure that you have all the appropriate equipment purchased for towing.
Oil changes – the cost of an oil change correlates with the size of engine propelling an RV. If you are using a heavy-duty truck to tow, the oil change will most likely not cost more than your passenger vehicle because on average most modern passenger vehicles take 5-8 quarts of oil, and heavy-duty trucks take 10-13 quarts of oil. Class B vans, class C and Class A gas motors will take a similar amount to a heavy-duty truck.
A diesel pusher on the other hand, has to propel around 30,000 – 45,000lbs and has a much bigger engine to do so. A Cummins ISX engine, which is a commonly used engine in diesel pusher motorhomes can hold between 26 – 56 quarts of oil. Converting to gallons, 56 quarts is 14 gallons, that's a lot of oil!
Tires – tires need to be checked for inflation before every trip, rotated routinely and replaced every 5-7 years depending on manufacturer recommendations. Unlike passenger tires which last roughly 10 years, RV tires are subject to more wear and tear due to the weight of the RV they are carrying. To get maximum life out of the tires always make sure they are inflated correctly and rotate every 6,000-8,000 miles. Underinflated tires are more likely to cause a blow out and decrease fuel economy. Also, make sure that your rig doesn't sit stationary for too long. This will cause "flat spots" in the tires which can lead to vibrating, steering difficulty or blowouts.
Batteries – Here in AZ the average life span of a lead-acid battery, which usually comes standard in RVs for house and chassis, is about 2-3 years. Climate conditions play a big role in how long a battery will last. Extreme heat and cold shorten the lifespan of a battery. Keep battery levels maintained for maximum life, and store inside, or in a shaded area when possible.
Pro Tip – If you are purchasing used, always try to get the maintenance records, or repair orders from the previous owner to make sure that the RV you are purchasing has been maintained. Be wary of any seller that is unable to provide proof of cabin and chassis repair records. Lack of records could indicate that the unit has not been well maintained.
Storage
You found an RV in your budget, it's a floor plan you love, and you couldn't be more excited! But where are you going to store it? If you own or rent a home with an RV gate and can store the rig on site at your home, that is fantastic. Just make sure to keep your rig in a shaded, or covered area as much as possible. UV rays from the sun are damaging to paint, tires, sealants and components on RV roofs. Be aware most HOAs and some cities have rules and restrictions against storing a motorhome at your home. Always do your homework and take these restrictions into consideration before purchasing.
Another great option is storing your rig at a storage facility. Like the parks mentioned earlier, facilities offer amenities based on price and length of RV. Storage facilities include uncovered, covered or indoor storage. Basic uncovered storage will be your most budget friendly option at around $3.00-5.00 per linear foot. Covered storage with some amenities like trickle power, or full-time power to keep your batteries topped off and ready for the road will run about $5.00-7.50 per linear foot.
At around $10.00-$12.00 dollars per linear foot, indoor storage is a higher end option. This price point includes facilities that usually include power hook ups, climate control and some even offer valet services. Valet services can be a huge perk for busy RV owners and can include filling up water/propane tanks, turning on ACs and Fridges, inflating tires and more. These services do come at an additional cost, however, can save the owner time and gas from having to prep their RV themselves and allow more time for travel and making memories with loved ones.
Add-Ons
The last item to take into consideration is add-ons, this is the hardest expense to quantify because it will vary drastically per person. One example of add-on equipment is a tow bar for towing a passenger vehicle behind an RV. Another example is suspension upgrades. Class A and C RVs do not drive like normal passenger vehicles. They sway much more than a car or truck and sometimes RV owners choose to upgrade the suspension to improve road handling and comfort. Solar is another popular addition that RV owners like to add to their rigs to improve battery longevity and harness the power of green energy.
The good news about add-ons is that you have time to make upgrades to your RV as you see fitting. I always recommend going on a few trips and then assessing what upgrades or changes you need to suit your travels best.