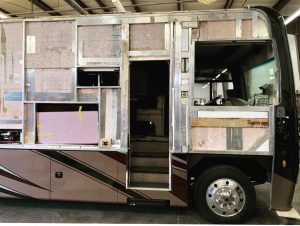 Hi guys! Kevin Valente here to shed some light on a subject most RV owners will have to deal
with at some point or another, and that is, using their RV insurance. When discussing insurance
on a motorhome, new motorhome owners instinctively try to compare their passenger car
insurance to their motorhome insurance. Makes sense, right? Both drive on freeways and city
roads, transport people and goods, and usually can be insured by the same provider in a bundle
to save money.
The problem is, motorhome policies and passenger vehicle policies differ quite a bit. This is
because an RV serves a dual purpose – transportation and being a home. We are going to
discuss some of the critical differences between RV and car insurance, provide insight on how to
save money on insurance premiums, and explain why filing a claim with your insurance
company makes the most sense if you are in an accident.
RV Insurance Policy Coverages:
Let's talk about what you need to know in regards to RV insurance policies and what coverages
to consider that are specific to a RV policy.
● Does the policy include lodging? If you are full-time in your RV, or travel for consecutive
months out of the year, one coverage you may want to have on your policy is paid
lodging. This will ensure that while your motorhome is at the repair shop, you will not
have to come out of pocket for housing during the repair time. In our home state of
Arizona, if you have to take your RV into a shop from October-April, prices for lodging
can go up 2x-5x more than off season months like May-September. This is due to a high
influx of snow birds living in Arizona during the cooler months. If you are on the road for
months at a time, this is definitely a coverage to consider, especially if traveling to
destination locations.
● Is suspended coverage an option while your RV is in storage? Suspended coverage is
the ability to pause your insurance coverage when your RV is not in use. Some insurance
providers offer this coverage and it can really come in handy for anyone on a budget, or
that only uses their RV seasonally. By only having to pay for a few months out of the year
for coverage, you can save hundreds of dollars a year and still be fully insured on the
road. Keep in mind though- if your RV is damaged, at home or at a storage facility, while
your policy is paused you could still be on the hook for any repairs during that time.
● What are the liability limits? For most insurance providers, it is mandatory to have
higher limits of liability on your RV than your car. Motorhomes are larger than passenger
vehicles, just the weight and size of a motorhome make this type of vehicle more
destructive in the event of an accident. For your personal protection, always make sure
that you can purchase as much liability insurance as your budget will allow. An RV
accident is something no one wants to think about. However, if you are not properly
insured with high enough liability coverage, and you are found to be at fault in an
accident, you could personally be financially responsible for any costs that exceed your
liability coverage.
● Does the policy offer a $0 deductible for glass replacement? This particular coverage is
not usually advertised, and can be found on auto and RV policies in Florida, Kentucky,
South Carolina. Other states like Arizona, Connecticut, Massachusetts, Minnesota, and
New York provide the option to buy separate glass coverage with no deductible. Not
having to pay anything out of pocket makes this coverage a big money saver!
● Are there any rewards? Deductible rewards and disappearing deductibles exist with
many insurance providers for good driving habits. Make sure you check with your
provider to see if you are eligible for any driving rewards. One of the most beneficial
features that is offered by an insurance company, in my opinion, is dividends paid out by
the insurance company. USAA for example provides a dividend in the form of a premium
credit which reduces the cost of premiums!
● What additional coverages would benefit me? Other coverages include full-timers
insurance, campsite liability insurance, and RV emergency expense coverage.
The nature of this blog is to create awareness about RV insurance, helpful questions to ask your
agent, and things to consider. It is not a deep dive into policy specifics because they differ by
provider. If you are unsure about the coverages you currently have, or what additional
coverages you may need, I recommend contacting your provider directly to see what options
they have available.
What dictates the cost of my RV insurance?
A question we get asked all the time at our shop by customers during the claims process is – will
my insurance premiums go up if I file a claim? The short answer is not necessarily. However, to
better help answer that question, and other frequently asked questions, let's look at some of
the factors that dictate insurance costs.
● What is the size and classification of your RV? Naturally, a larger Class A, or 5th Wheel
will cost more than a Class C, or travel trailer to insure. On average to insure a class C, or
towable RV the price is roughly $1000+/per year. However, the prices of Class A
motorhomes can be $2000+/year and climbs up as the purchase price increases.
● What is the zip code and state designated on your policy? The next factor is the zip
code in which your RV is registered. Much like your car insurance, the cost to insure is
very heavily dictated by data. If your RV is registered in a zip code that historically has
had more claims for natural disaster damage, vandalism etc., the cost will be more
expensive than in an area that is less prone to claims. If you own multiple residences in
different states, I recommend price shopping rates between states to see which one
would be cheaper to designate on your policy.
● Are you able to bundle? A perk that most insurance companies offer is discounts when
insuring multiple assets such as your car and RV. This number can vary but on average,
most people save 10-20% with bundled policies. It is important to remember though
that not all insurers provide the same coverage, and if there is specific coverage you
need, you may be better off insuring your RV and other assets separately.
● Which deductible should I choose? Much like car insurance, the higher the deductible,
the lower the monthly or annual premiums and vice versa. For folks that are new to the
RV lifestyle, I would recommend going with as low of a deductible as your budget will
allow. This will provide some peace of mind if, and when you have to make a claim. Once
you have reached a good comfort level driving or towing your RV, I would recommend
increasing your deductible amount to lower your monthly premiums.
● What is your previous insurance history? Your driving record and claims history will play
a part in your cost of coverage. First time RV owners will most likely pay higher
premiums than experienced RV owners. Your passenger vehicle driving record will also
be taken into consideration by your RV insurance provider. Meaning a clean driving
record will yield lower premiums and a history of speeding tickets and traffic violations
could yield higher premiums. When it comes to claims, one claim on your insurance will
either have no effect or a low impact on the pricing of your premiums. Where premiums
do start to rise is if there is a history of frequent or multiple claims. Like with all types of
insurance policies, the more you have to use your insurance, the higher risk you are
perceived to be by the insurance company. One of the best ways to drive safely is to
have a safety checklist that you follow. Include items like checking air in tires, tow
equipment, slide operation, etc., and mark off each item before beginning to travel.
● What are some other creative ways to lower my premium? Some companies offer
discounts by installing anti-theft devices, taking an RV specific driving class, or being a
member of a motorhome group. Anti-theft devices range anywhere from a cheap air
brake lock to a more expensive GPS locating device. If you are serious about this type of
discount, speak with your insurance provider to see what they recommend. Driving
courses are a great idea to not only save money on your insurance but also so you feel
safer and more prepared on the road. Even the best drivers on the road are still
susceptible to the poor drivers around them. Taking a course in RV specific driving or
defensive driving could provide more than one benefit. Being a member of a
motorhome group or association can provide excellent benefits on everything from
insurance, extended warranties, replacement parts like tires, and more. Do some
research and see what RV group(s) best suit your lifestyle.
Lastly, insurance rates can increase if an insurance company files for a rate increase in
the state you are insured. This happens periodically as accident numbers increase due to
distracted drivers. Vehicles also become more expensive to repair on account of new
electronics, materials, and technology. Long-story-short, there are a lot of factors that
will dictate the cost of your insurance premiums, becoming educated about these
factors will help you save money over time.
When filing a claim makes the most sense:
Now we are going to talk about the moment everyone dreads, when an accident occurs.
Making a claim on your RV insurance is the best way to keep costs low and ensure that your RV
gets back on the road in a timely manner. In the event that only your rig is damaged, repairs can
be very expensive. Keep in mind, the initial estimate for collision repairs is usually not how
much the overall repair will cost in the end. The first estimate is written when the RV is dropped
off and based primarily on the damage that the eye can see. Once a repair is started, it is not
uncommon for there to be damage under body panels, fiberglass, roofing, etc. that was not
detectable during the first estimate. When the additional damage is found, a supplement
estimate is written and added to the original estimate. Also consider – if you do hit something
with your RV, there is a good chance someone else's property is damaged as well. The good
news is – liability coverage will pay for damages to anyone else's property as a result of the
accident.
In order to get all the benefits of your insurance that you pay for monthly, you have to file a
claim after an accident, and filing quickly is highly recommended. The number one reason that
RV owners do not want to file a claim is because they are afraid that their monthly premiums
will increase. As stated before, this is not always the case, and probably will not happen unless
you have multiple claims in a 12 to 24-month period. Even if you have just recently purchased
your RV, and have to make a claim, there is no guarantee your rates will increase.
As stated above, RV repairs can be very costly. Most highly rated collision repairs shops have
hourly labor rates of $150+ per hour. RVs being larger than cars also means it will take more
labor time to repair. Paint schemes especially that have multiple colors are very time consuming
to restore back to pre-loss condition. Parts for an RV are also more expensive and harder to
source for an RV than a car due to less parts manufacturers throughout the country. For
example, an RV window can cost on average between $250-$600 dollars depending on size and
location, and that's just for the part, not including labor! On top of that, replacement windows
are made to order and usually take between 4-8 weeks to get from the manufacturer.
Due to these factors, repairs costs on smaller RVs can easily be in the $1000s+ range, and Class
A, Super C, or 5th Wheels can be in the $10,000s+ range. When debating whether it would be
cheaper to pay out of pocket, or pay your deductible and risk a premium price increase, using
your insurance will almost always be the overall least expensive option.
You are paying insurance premiums for a reason, and that is so that you can pay the deductible
and the insurance company will take the financial burden of the accident. Most collision repair
facilities will also work with the insurance company directly to save you time and make the
claims process as easy as possible.
Please keep in mind that there are multiple factors that determine the costs of your premiums
and they can vary between insurance companies. The best way to find out more about your
specific policy is to contact your insurance provider directly.
Please be advised that I am not a licensed insurance agent and I am not giving legal advice
about your RV insurance policy, or policy coverages, nor is any member of the Ultimate Collision
staff. This blog is indented to give readers a comprehensive overlook of insurance policy
benefits and coverages.
If you have any questions for our shop about how an RV claim works, you can call our office at
(623) 289-9335 or email Kevin@ucrvaz.com. Safe Travels!