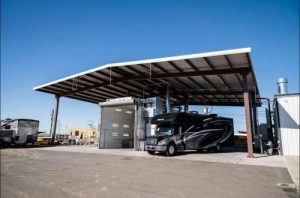 Hello readers! Kevin Valente here with UCRVAZ to discuss with you the stages of RV repair, and why collision repair for an RV is more complex than fixing a car. There are multiple moving parts during the repair process. Everything from the repair center, motorhome manufacturer, insurance company, to parts distributors, etc. will determine the time duration and quality of repair. When your motorhome is damaged, or in a collision, it is very important that you pick the correct shop for your rig. At Ultimate Collision, we specialize in motorhome repair for RVs of all sizes from small travel trailers all the way up to 45' Class A Diesel Pushers. In this blog, I will discuss how all of these factors affect the repair process and inform you on the steps of the repair process.
-Why the collision repair center you choose is important-
Let's talk about the day everyone dreads – the day your motorhome gets damaged. At Ultimate Collision, we know when this happens everyone has three common goals. Customers want to get their rig repaired correctly, quickly and easily. We have streamlined our repair process to make it as easy as possible for our customers. This process starts with the first phone or email conversation we have with our customers. For customers in the greater Phoenix area, we will come to you for a preliminary estimate within 24 hours of contact. If you are bringing your RV in for an estimate, from the minute your coach touches the ground at our location, we will be in contact with you to discuss the best practice for the repair, set up realistic time frames and discuss the insurance, or customer pay process.
If a customer is going through an insurance claim, once the claim is started, we will work with the insurance company directly to save you time and expedite the repair process. Just like every motorhome manufacturer is different, every RV insurer varies on their process and procedures. Our expert RV team will guide you on the process for your insurance company, and give you updates during the repair process. We frequently hear from customers that have gone to our competitors for previous repairs say that their biggest complaint is the lack in communication during the repair process. At Ultimate Collision, we understand that your RV is your second home and we will work around your needs and travel plans to accommodate your repair.
In addition to supportive office staff, we have state-of-the-art facility to handle any size RV repair. Our extra-large 60' paint can accommodate any size trailer, 5th wheel, or motorized RV on the road today. Our lead technicians have decades of experience and most importantly, experience with all brands of motorhomes. We can repair everything from rock chips, to fiberglass repair, roof replacements, full wall replacements, tire blowouts and everything in between.
-Differences in manufacturing-
Before choosing a repair facility, I recommend walking the lot and investigating the kind of motorhomes and quality of work. If the shop you are looking at doesn't have your brand of motorhome on the lot, or can show you before and after repair pictures of your brand of motorhome, I would recommend looking elsewhere. Motorhomes are built differently depending on the manufacturer. For example, some motorhomes have rubber roofs, other have fiberglass and some have aluminum. Interior and exterior wall materials and assembly also differ by manufacturers.
Some differences are less obvious like the wiring that goes throughout your coach, or the insulation that goes into the walls. Different manufacturers also use different brands and quality of paint. It is important choose a repair facility that understands all aspects of the repair for your rig. All of these items could be key components when repairing an RV. A lot of repair centers are good at making a repair look presentable, but not necessary doing the repair correctly. Do your homework and make sure that your collision repair center is fit for the job.
-Insurance claims-
As mentioned earlier, we do our best to make the claims process as easy as possible for our customers. We can repair any brand RV, and work with all RV insurance companies. Once an RV is at our location for a repair, we go through the exterior (interior if necessary) of the coach with a fine-tooth comb. We take lots of pictures and mark every area on the coach that is damaged. The more information and photos we can provide to an insurer, the faster the claims process will go.
Most of the time an adjustor will want to inspect the damage on the rig. We will schedule a time for the adjustor to come on site and get the information he or she needs. A member of our staff will be on site to elaborate on the repair and best practice to bring the RV back to pre-loss condition. Once the claim is started, we remove any components and body panels to further inspect the damaged area. Most of the time there is more damage than what meets the eye when repairing an RV. If this is the case, a supplement to our original estimate will be written and submitted to the insurance company.
When we have full approval for our claim, parts are ordered and we begin the repair process. Based on customer preference we will update customers with progress during repairs via text, calls or emails. During a claim, communication is key and we want our customers to be informed where we are at during the different stages of the repair.
When your vehicle is ready to be picked up, it will be clean and a final walk around of the rig will take place to ensure our customer is happy with the repair. We take pride in our work and every repair comes with an ownership lifetime warranty. This means that your repair is warrantied for as long as you own your RV.
-The repair process-
Whether it is customer pay or an insurance claim, once we get the green light, we waste no time starting on our repair. For paint, this means sanding down the affected area and feathering out scratches, chips, nicks, etc. If the damage is all the way through the paint and into the fiberglass, we can fill in the affected areas with new fiberglass or replace panels as necessary. We then use a combination of sanders and hand blocks to level all surfaces. The coach then goes through a quality check to make sure that the repair area is smooth and ready for paint.
Once the rig is paint-ready, we apply a layer of primer for maximum paint adhesion. A final block sanding is then performed to make sure that the repair area is free of imperfections. The fundamental or base color is then applied. For most Class C and Class A gas motorhomes, there is just one color. However, this is not always the case, there can anywhere from 2-5+ colors in a motorhome paint scheme. This makes for a beautiful graphic display, and additionally, time-consuming and labor-intensive for repair facilities.
Painted on graphics have to be applied one color at a time and are stenciled by hand. Once the graphics are laid out, each color is masked off and sprayed in our booth. This process is repeated until all colors have been applied. Once the paint has cured, three layers of clear coat are applied for maximum protection from the elements.
For single color coaches with graphics, the graphics have to be ordered from the manufacturer. This can cause a time delay that I will go into more detail a little later in this blog. The graphics are laid on the coach after the paint and clear coat have both fully cured. For both single, or multi-color RVs, after graphics are applied and clear coat has cured. the rig is re-assembled if any parts were taken off of the coach for the repair.
-Replacement parts and availability-
One very frequent problem that any repair facility will run into is the availability of parts. Unlike cars, most RV parts are not just sitting on a shelf at a dealership. When you think about the number of parts that go into an RV from plumbing, to electrical, to HVAC etc., you would need massive warehouses to store all those parts! Because of this, most replacement RV parts have to be ordered from the RV manufacturer directly, a third-party parts supplier, or the specific manufacturer of the part needed. For example, RV windows are not a part that most manufacturers or part suppliers stock. When a replacement window is needed, it usually takes about 4-8 weeks before the window will arrive at the repair facility.
Most motorhome manufacturers are based back east and in the south. This means that shipping parts can be expensive and timely. Another problem that repair facilities will run into is that the part shipped from the supplier will occasionally be the incorrect part, or damaged in transit. This is very frustrating for the repair center and the customer. At Ultimate Collision, we will pay for expedited shipping to get any damaged or incorrect parts to our shop ASAP.
In a worst-case scenario, the manufacturer of the part is no longer in business and we have to fabricate a part for your RV. When it comes to body panels and fiberglass parts that are no longer available, our expert technicians can fabricate these various parts.
Needless to say, an RV repair is complicated! From different protocol for paint schemes, to insurance companies to parts, there is a lot of people and resources needed for a quality RV collision repair. If you are in need of collision repair, please give us a call for a free estimate and to learn more about how we can get your rig back to pre-loss condition. If you have already been a customer at our location, thank you for your business. For all RV owners, we are here for you!