After an accident, you don't want to have to worry about finding multiple repair providers to fix your vehicle. At Ultimate Collision & RV, we do it all! We're an all-in-one auto body shop in Peoria, AZ, delivering everything from simple dent repair, to complete collision repair and painting—all done by master technicians. Our capabilities include:
DENT REMOVAL:
Dents compromise the integrity of your vehicle's paneling and downplay its value. We're equipped for dent removal in Peoria, AZ and can erase all damage, restoring the smoothness of your doors, hood, roof, trunk and anywhere else affected.
FRAME STRAIGHTENING:
After a major accident, frame straightening restores the symmetry and stability of your frame, preventing grinding or alignment issues. We have the equipment necessary to perfectly realign your frame and fix your vehicle.
PAINT SERVICES:
After dent removal or frame straightening, a fresh coat of paint is needed to get everything looking great again. We can match dealership colors or custom paint, restoring the beauty of your vehicle. Our car paint shop in Peoria, AZ is equipped with a 60' paint booth, allowing us to paint any vehicle![/ezcol_1third_end]
PAINT-LESS DENT REMOVAL:
For most modern vehicles, dents can be removed through a process that requires no welding. This means your dents can be removed and fully restored without having to pay for an additional paint job!
SCRATCH REPAIR:
Even small scratches can cause big problems. Paint scratched down to the metal can cause rust over time or lead to flaking and peeling. We can repair those nasty little scratches to keep your car looking great and protected against the elements.
WINDSHIELD REPLACEMENT:
Cracked windshield? No problem! We'll remove and replace your damaged auto glass, restoring the safety and stability of your forward-facing glass. Regardless of the make or model, we're equipped for a direct windshield replacement.[/ezcol_1third_end]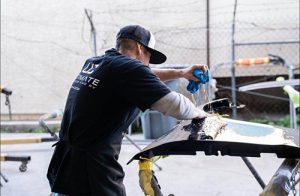 ALL-IN-ONE AUTO BODY SHOP
After an accident, don't waste time in getting your vehicle the repairs it needs to look great again. Schedule an appointment with Ultimate Collision & RV today and we'll make sure any and all auto body damages are totally resolved—with a fresh coat of paint to finish it off!
Schedule an appointment with us today by calling 623-289-9335.