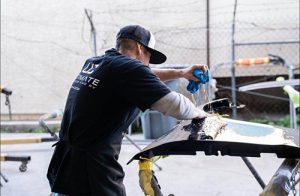 At Ultimate Collision, we understand that accidents happen. While many repair shops claim to be the best, we let our customers do the talking. We have earned our 5 star Google review by exceeding customer expectations with every repair. Ultimate Collision is your one-stop-shop for fixing your vehicle correct the first time. We work with every insurance company and have a streamlined process to repair your vehicle quickly, and return your car, truck or SUV to like new condition. We stand behind our work 100%, and every repair comes with a warranty while you are the owner of the vehicle. We cover a broad spectrum of repairs from minor to major. Our capabilities include:
DENT REMOVAL:
Dents compromise the integrity of your vehicle's paneling and downplay its value. We are equipped for dent removal from small blemishes, to large impacts. We have multiple techniques for making dents disappear and restoring the integrity of your vehicle's body panels.
FRAME STRAIGHTENING:
Frame straightening is usually required after a major accident. Straightening the frame of your vehicle after an impact restores the symmetry and stability of the frame. Proper frame alignment prevents grinding of chassis components and alignment issues. We have the equipment and trained technicians necessary to perfectly realign the frame of your vehicle.
PAINT SERVICES:
For collision repair, restoration, or customization, we know how to achieve the perfect color. Our state-of-the-art equipment can color match any dealer color or create a custom paint color of your choice. Our 60 foot long paint booth can accommodate any size vehicle on the road and make your car, truck or SUV look like new!
PAINTLESS DENT REMOVAL:
For most modern vehicles, dents can be removed using a non invasive procedure called "PDR", or paint-less dent removal. This process means that dents can be removed and fully restored without having to pay for additional paint repairs!
SCRATCH REPAIR:
Even a small scratch can cause big problems. Paint scratched down to metal can cause rust over time or lead to flaking and peeling of paint around the scratch. Repairing these scratches will keep your car looking great and protect the paint of your vehicle!
WINDSHIELD REPLACEMENT:
Cracked Windshield? No problem! We'll remove and replace your damaged auto glass, restoring the safety and stability of your forward-facing glass. Regardless of the make or model, we're equipped for a direct windshield replacement.
ALL IN ONE AUTO BODY SHOP
At Ultimate Collision, we have the equipment and staff to complete any automotive repair. We want to save you time and money by repairing your vehicle quickly and correct the first time. We offer a lifetime warranty on our repairs and strive to exceed your expectations.
Schedule an appointment with us today by calling 623-289-9335.