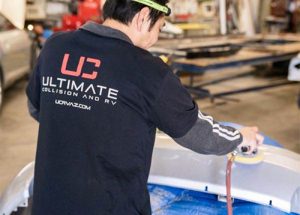 Ultimate Collision understands that with every vision there has to be execution. We are here to help your vision become a reality whether it is a new custom paint job, or restoration of your car, SUV, RV or towable. Our state of the art facility can paint and restore any vehicle on the road today. Share your vision with us, and we will help you make it a reality.
CUSTOM PAINTING:
At Ultimate Collision, there is no limit on the customization we can provide for your vehicle. Our skilled painters are able to paint two-tone colors, multiple colors, designs, custom graphics, race stripes, and pin striping. We can mix custom colors or provide manufacturer colors to give your vehicle a truly unique paint job that will stand out everywhere you drive.
RV PAINTING:
Our huge 60 foot long paint booth is large enough to accommodate RVs of all shapes and sizes, allowing us to put a fresh coat of paint on your RV with ease. Whether your RV is one color, or multiple colors, we have trained painters who can match or custom paint your RV's color scheme. In addition to paint can also perform clear coat work, remove unsightly oxidation and reverse paint fade with results that are guaranteed to impress! Have decals that need to be replaced? Not a problem, we are able to re-create any manufacturer decal to make your RV look good as new! Custom decals can also be made upon request.
VEHICLE RESTORATION:
Whether you are looking for a full frame-off restoration or a putting the finishing touches on a project, Ultimate Collision has you covered. We have skilled technicians and painters who can restore your vehicle to its previous glory, or modify your vintage ride with modern amenities, we are committed to restoring your vehicle to your standards.
DETAIL WORK:
For minor scratches and nicks, look no further than Ultimate Collision. We have trained technicians that can assess and repair minor blemishes to the exterior of your car. Our detailers will make surface scratches go away and make your clear coat look like new again! Services include color sanding, buffing, clay bar and more. Reach out today for more details!
Contact us today at 623-289-9335 for more information.