Thanks to our enormous, state-of-the-art facilities, Ultimate Collision & RV is your destination for auto restoration and paint services. Our auto paint shop in Peoria, AZ can paint anything from vintage vehicles to RVs, matching stock factory paint or delivering a truly unique paint job just for you. Our abilities include:
CUSTOM PAINTING:
We're known for our custom paint capabilities, which include everything from two-tone and multiple colors, to designs and even classic race and pinstriping. We can mix custom colors or choose from manufacturer stock colors to give your vehicle a truly unique paint job that'll stand out anywhere you drive it.
RV PAINTING:
Our huge 60' paint booth is large enough to accommodate RVs of all sizes, allowing us to put a fresh coat of paint on your camper with ease. We can also perform clearcoat work and custom painting for RVs, with results that are guaranteed to impress! Our work is second to none and we paint with incredible precision and detail.
VEHICLE RESTORATION:
Restoring a classic auto? Putting a few finishing touches on your vintage car? We're the authority on auto restoration in Peoria, AZ. We can put the final, finishing touches on your restorations with a beautiful paint job and other refurbishments that are guaranteed to turn heads and add value to your classic car.
DETAIL WORK:
Have scratches that need to be covered up? Need painting for a replacement panel? Repairs for your custom paint job? We deliver detail work that's high-caliber and beautifully precise, for a finished façade that's flawless.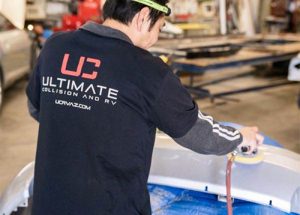 CUSTOM PAINT & RESTORATION
Have a classic car that needs a little bit of TLC? Want to customize your car with a totally one-of-a-kind paint job? Ready to breathe new life into your aged RV's façade? When the job calls for custom paint and restoration services, Ultimate Collision & RV is ready to help.
Contact us today at 623-289-9335 for more information.